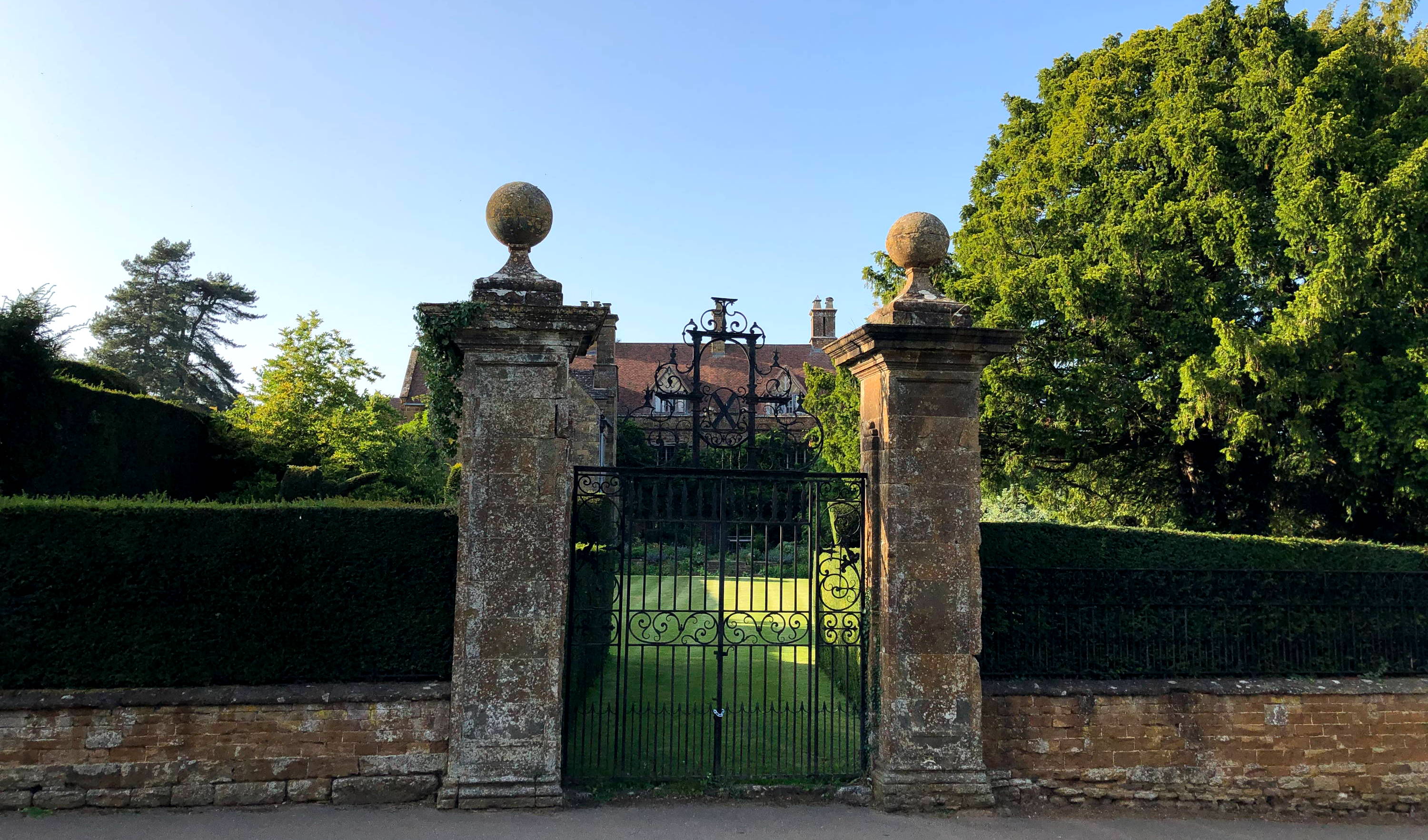 Perfect blue cloudless skies after the first touch of Autumn mist has risen from the ground and dispersed. A perfect English hamlet full of honey coloured stone houses set back behind grassy banks running down to a small country lane that meanders through the village like a river. A courtyard full of excited activity, a mix of dogs, chickens, people, the smell of coffee in the air and the bright bright urn of Dahlias that tells you you have definitely arrived in a small corner of gardening heaven, otherwise known as Wardington; home to the Land Gardeners.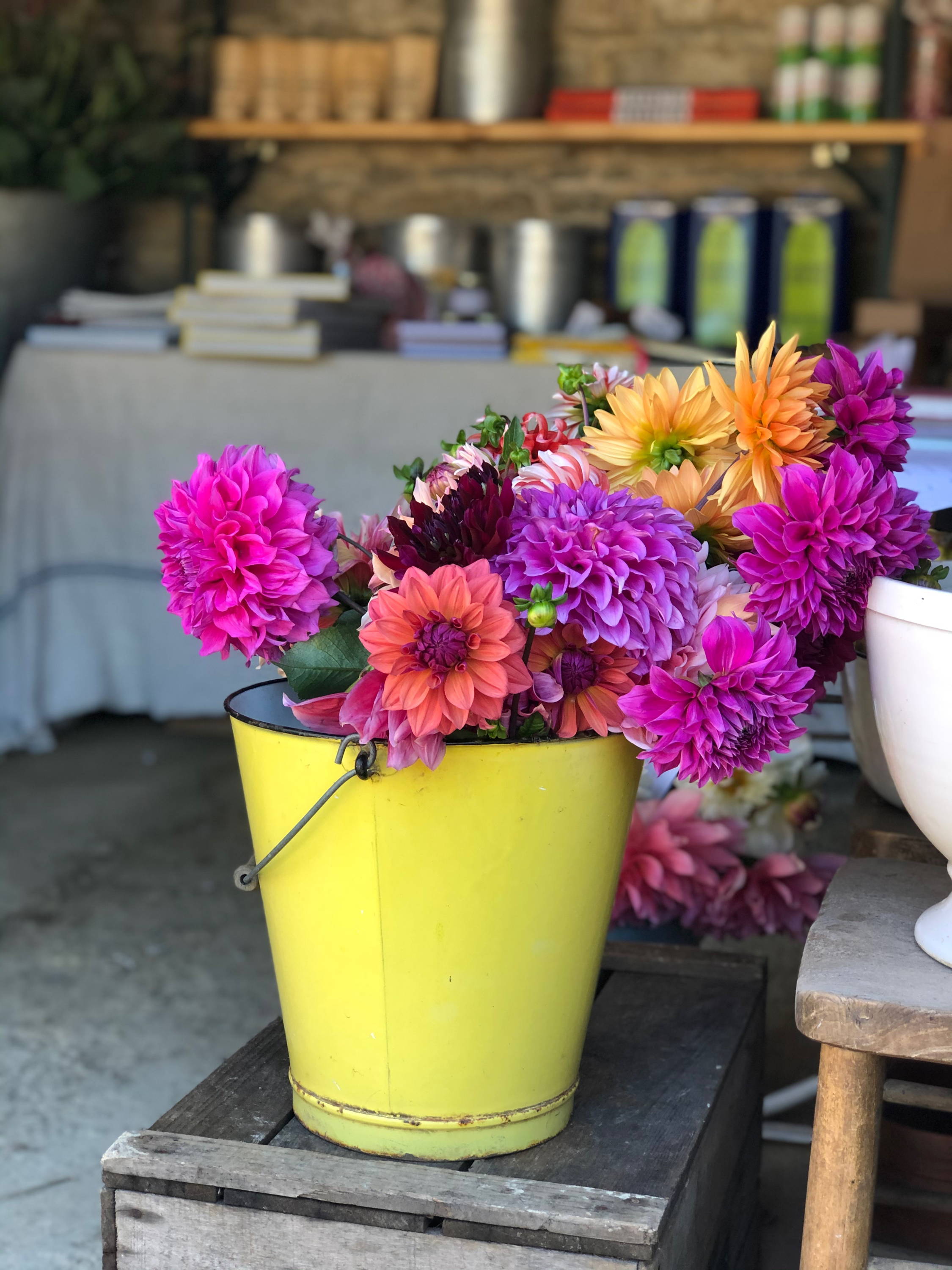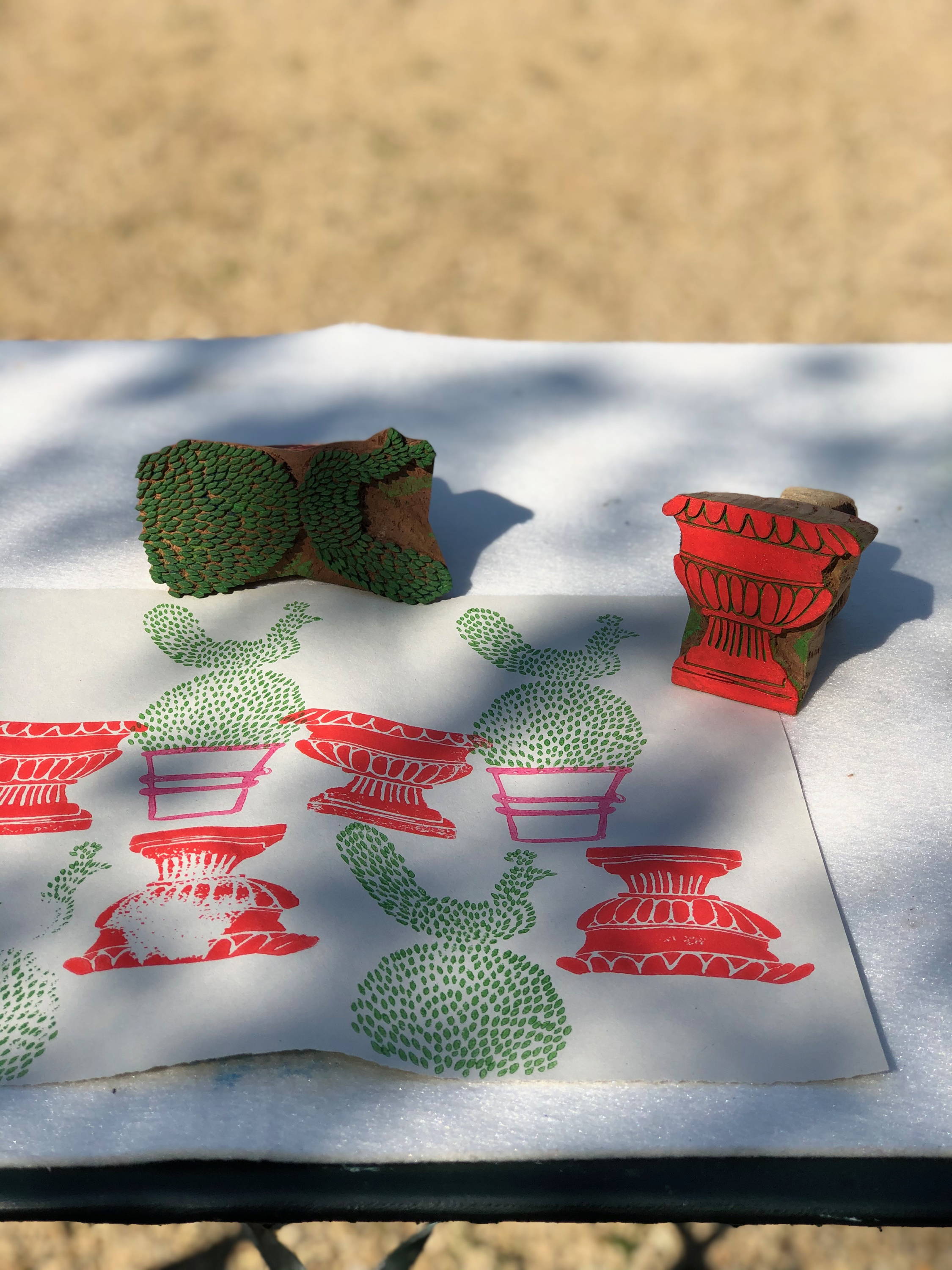 This is the very special place where I was able to keep running my workshops, generous enough in its space that we could all stay covid safe. Spread between the potting shed, the stables and the flower room we could all print to our hearts content and breathe in deeply, knowing that it was only fresh air and the scents of freshly cut flowers that would reach the lungs.
It was a joy to be able to conduct a workshop once again and I was in my element as, with the help of Maud, we welcomed our eager students. Fuelled with delicious homemade cake by Lulu, a talk and tour of the gardens from Henrietta and Bridget, blocks were chosen, colours were ooh'ed and ahh'ed over and very soon the quiet meditative calm that block printing brings had ensued.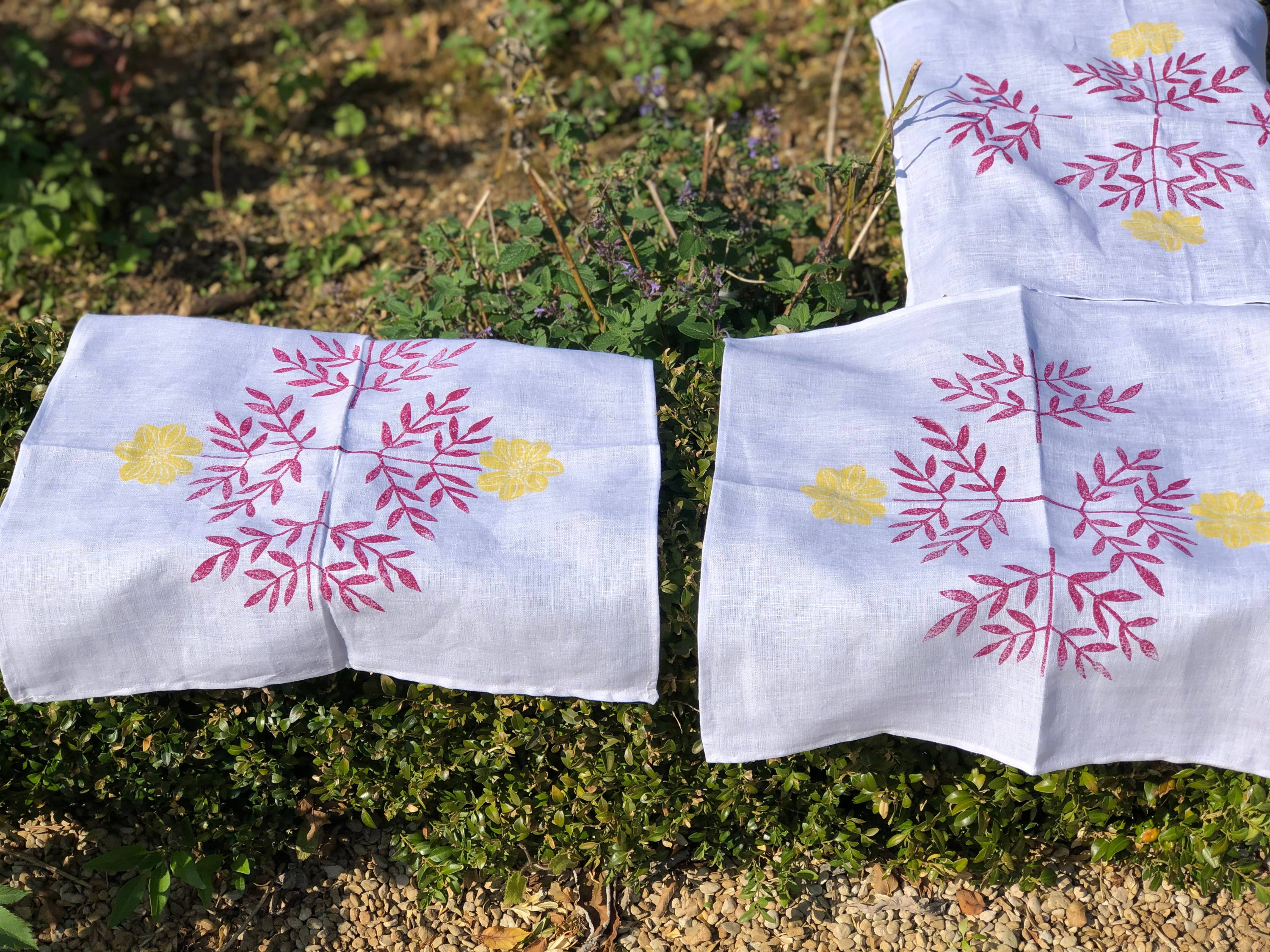 For me, one of the main joys was seeing these new blocks we have had carved being used. Drawn especially by my mother, Celia Lewis I took her sketches on my last trip to Jaipur to have them carved. Watch the video HERE. In a nod towards the new fabric collection launching next year, it includes all things 'garden-y' from tools found in the potting shed at Wardington, chickens as seen around Wiveton, to the beautiful stone urns at Charleston. These are all very special places that have a uniqueness and sentimentality of the 'garden' that I adore and were all supposed to be venues where I would hold my workshops, alas that hasn't been so possible just now. My mother had drawn these for me out of the kindness of her heart and so I did a little Q&A with her to give her credit where credit is due!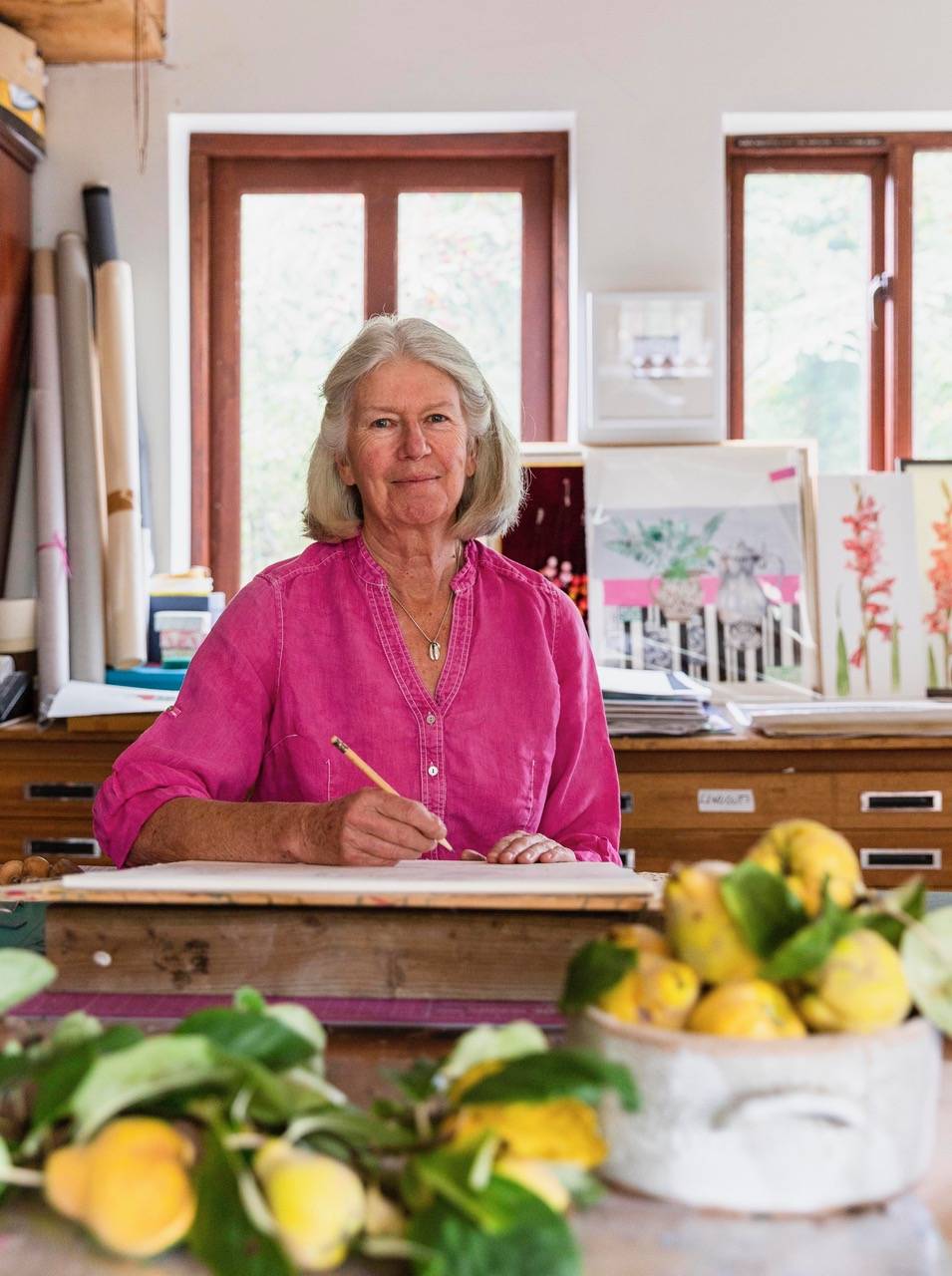 Celia Lewis in her studio. Photo credit Emma Lewis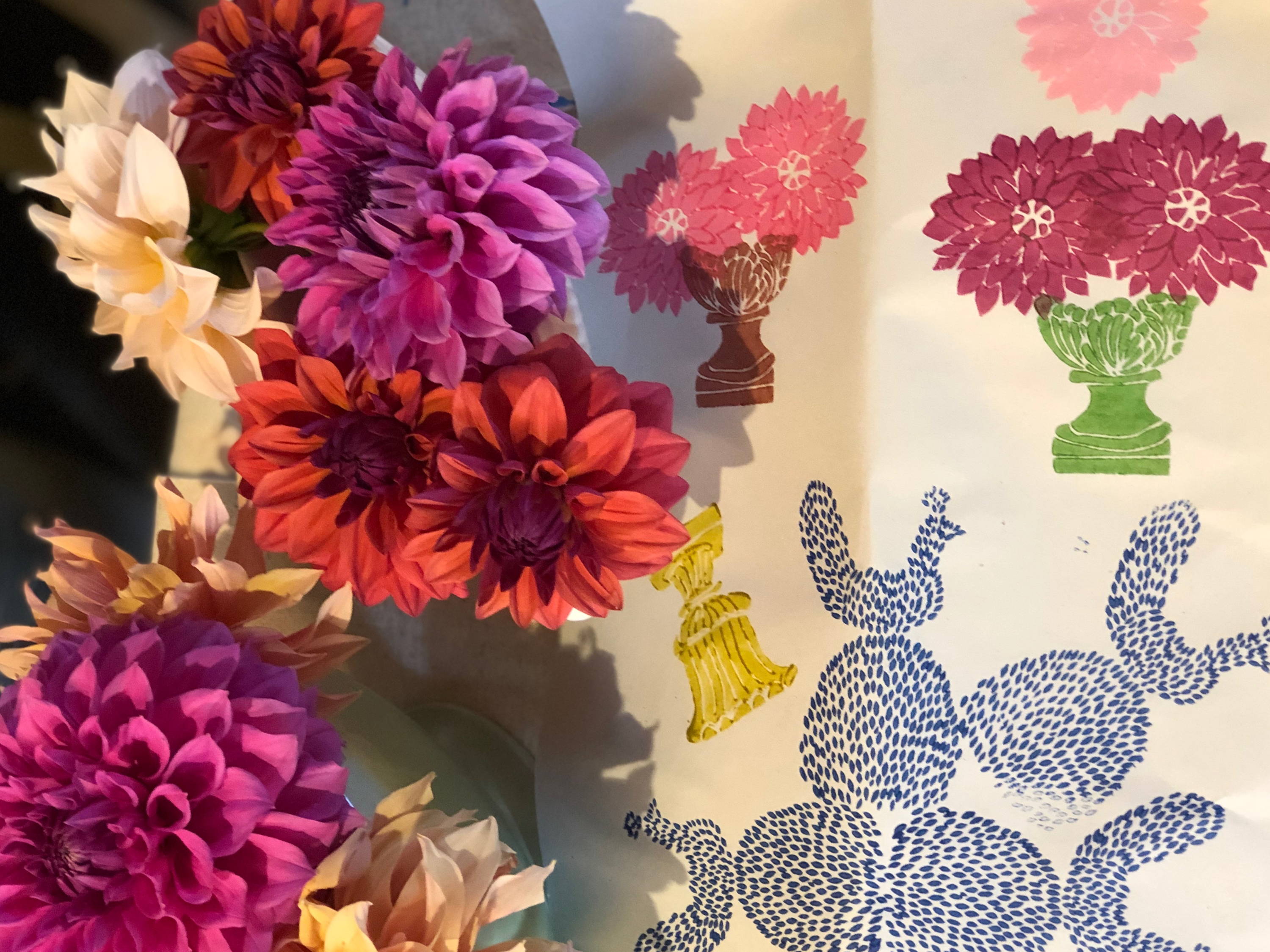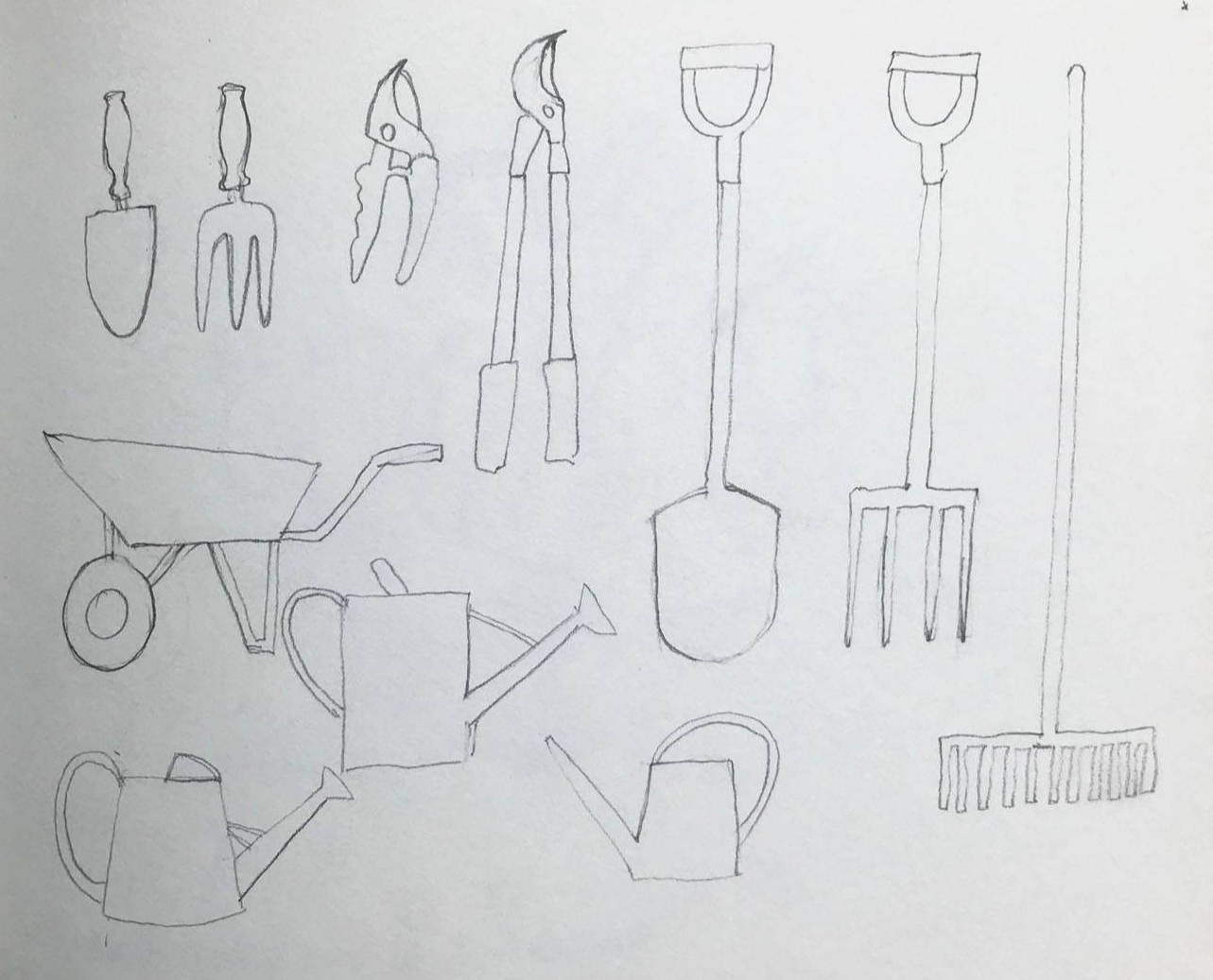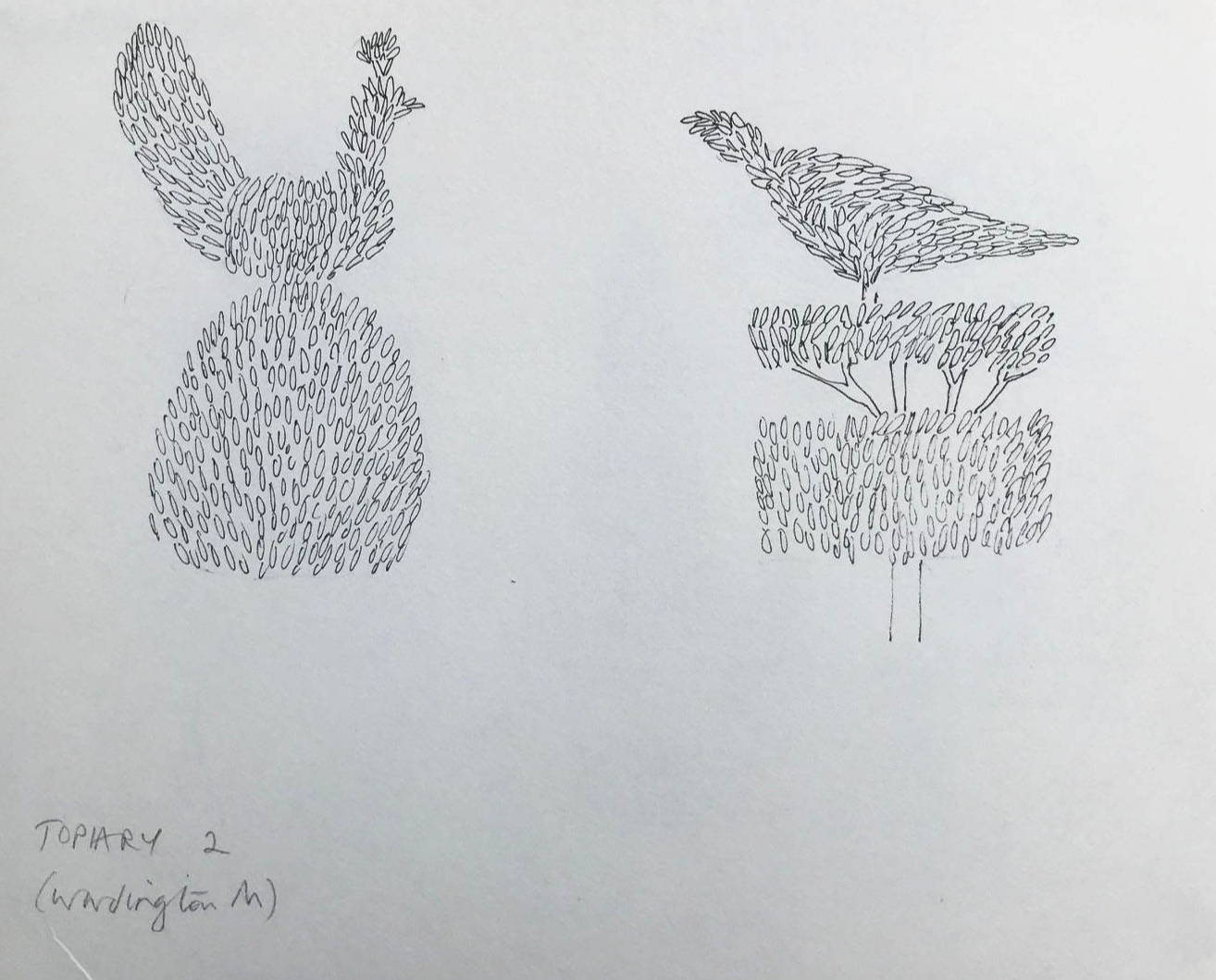 MM: You have always loved your garden and seem to know the name of every flower out there, but what is your favourite flower?
CL: I think I would have to say Bearded Iris but difficult to home in on one in particular. In fact it is wild flowers that I know the names of, and to choose a favourite of those would be impossible!
MM: I know you love to travel to India, where or what most captured your heart and why?
CL:

Rajasthan without a doubt blew me away. I think it was the colour, the vivacity of the people, the amazing palaces - just the feeling of exuberance.
MM: When I asked you to do the drawings to help me create this collection were you excited at the prospect?

 
CL: I was more than delighted and flattered. Just the sort of absorbing project I love.
MM: You work really fast and filled many pages with sketches in no time at all, do you ever have to rub out a line or does it generally just 'go right'?
CL: I use a rubber all the time! The only thing I can draw straight off is a flower, mainly I think because I draw them actual size rather than having to shrink them like a landscape.
MM: Are you happy with how the blocks have worked out?  
CL: Its always a delight to see a drawing come to life as a block and I think these worked really well.
MM: Do you enjoy block printing? and what is your favourite art form?  
CL: I love block printing - linocutting is close to my heart and blocks are similar. I think its the will it/won't it moment of the first print which is slightly addictive.
MM: Whats going on in your artistic life at the moment?  
CL:

I have developed a technique of incorporating linocutting with either acrylics or watercolours which I am enjoying.
  I'm always looking for new
ideas and I'm working on a series of little birds on wood panels using this method....which are

available

via her instagram @veryan66
Original drawings by Celia Lewis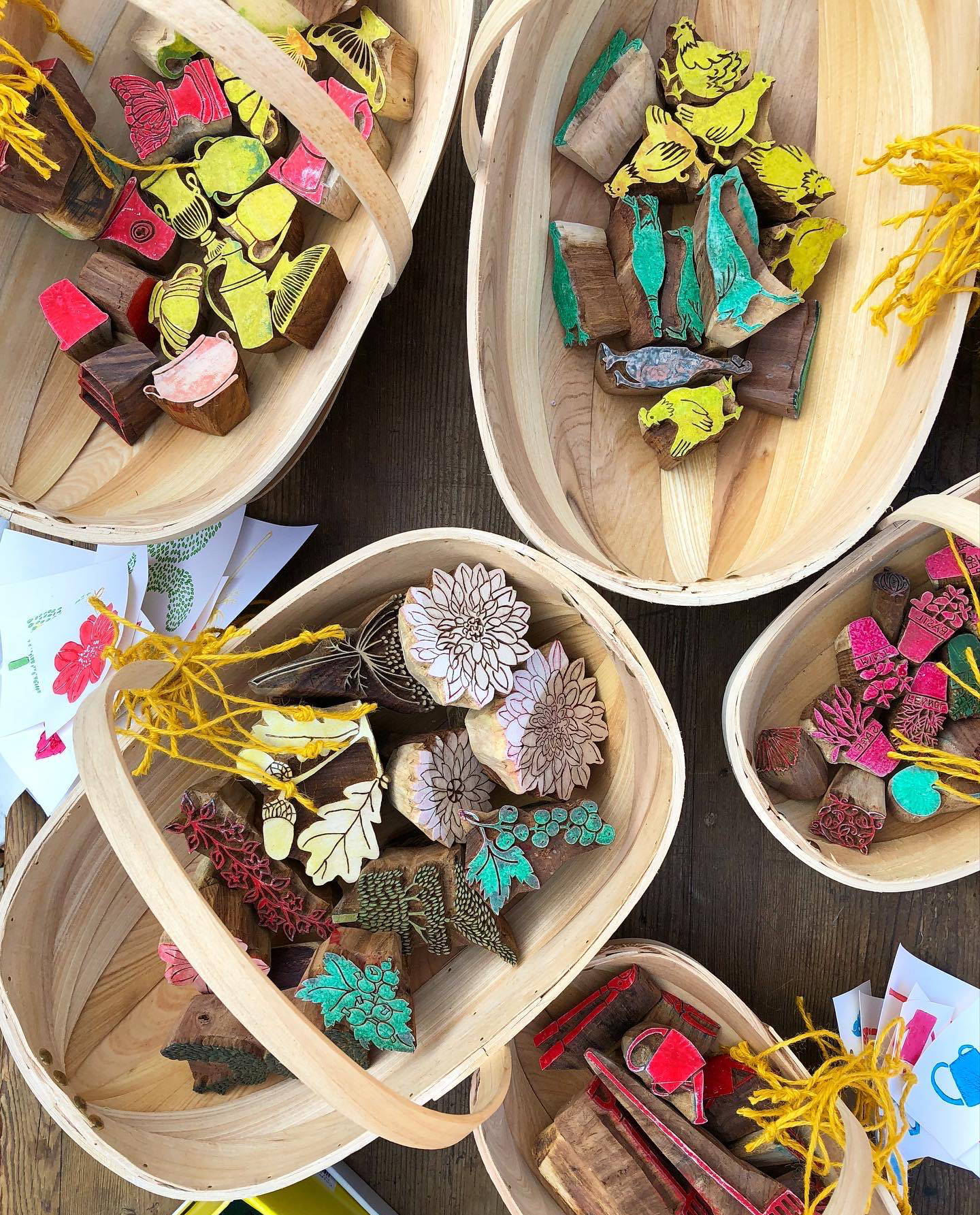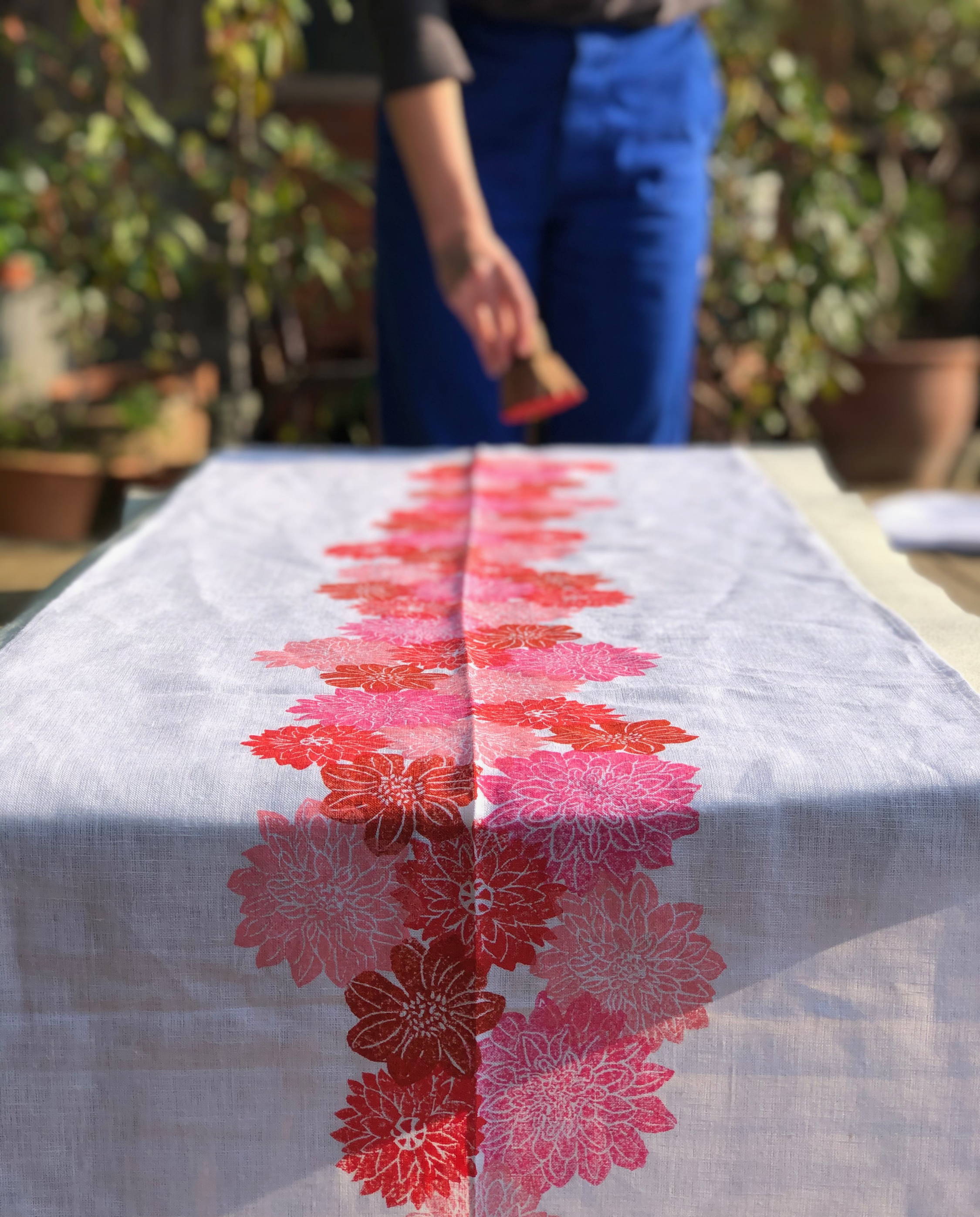 The whole setting and the work that was created really were a feast for the eyes and we hope and pray that we can offer a new schedule next year to allow more of you to come and join the fun. If you might be interested please email studio@mollymahon as we would love to know what part of the country you hail from!