Trellis Block printed Fabric Linen/Cotton Grass/Sky
Using the lattice repetition of garden trellis, this is a block printed interpretation of a woven cloth.
View details
Hand Block Printed
Designed in Sussex
280gsm
Water Based Inks
16.7 cm vertical repeat
138 cm useable width
Designed in Sussex
Hand block printed in Rajasthan
Cloth: 55% Linen 45% Cotton
Cloth weight: 280gsm
Useable Width:140cm
Vertical Repeat: 16.7cm
Sold by the metre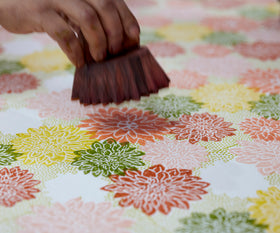 As a rule of thumb our hand blocked fabrics we hold an inventory in stock here in the UK
On purchase you will be informed the lead time within 24hrs
Free samples - Maximum of 5 samples per order. Additional samples will be charged £1 per sample. Shipping is calculated at checkout.