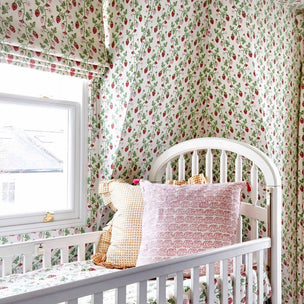 Strawberry Wallpaper Grass
'Strawberry' from Molly's Greencombe Collection oozes nostalgia and British charm. This beautiful, four colour block print has transferred perfectly to a dreamy, textured wallpaper. Matching, hand blocked fabric also available.
View details
Designed in Sussex
Printed in the UK
Paper: Non-Woven, Uncoated
Roll Size: 52cm x 10m
Vertical Repeat: 20.5cm
Sold by the roll
This wallpaper is printed in the UK and we print to order with a lead time of approximately 3 weeks
On purchase you will be informed the lead time within 24hrs
Free samples - Maximum of 5 samples per order. Additional samples will be charged £1 per sample. Shipping is calculated at checkout.